Introducing margin trading on Bullish
News • Aug 3, 2023 • 3 min read
We are excited to welcome margin trading to Bullish - the next stage in the evolution of our product lineup that empowers customers to maximize capital efficiency while executing their preferred trading strategies.
With over US$200B in total trading volume surpassed in just 18-months, Bullish exchange has quickly become a leading institutional digital asset trading platform, representing the fourth highest exchange by spot volume for Bitcoin and the fifth highest for ETH in recent weeks, according to Coin Metrics' Market Data Feed.
Following the introduction of AMM Instructions, we put the power in the hands of customers by allowing for unprecedented customizability in the range of prices and spreads charged for bids/offers generated on Bullish. This advancement propelled Bullish forward to consistently offer market-leading depth across market conditions - all on a secure and regulated platform.
Today marks an exciting milestone as we announce the availability of margin trading on Bullish - the next stage in the evolution of our exchange and product lineup. Designed with customers in mind, margin trading on Bullish was developed to optimize capital efficiency and enable the most effective capture of market opportunities.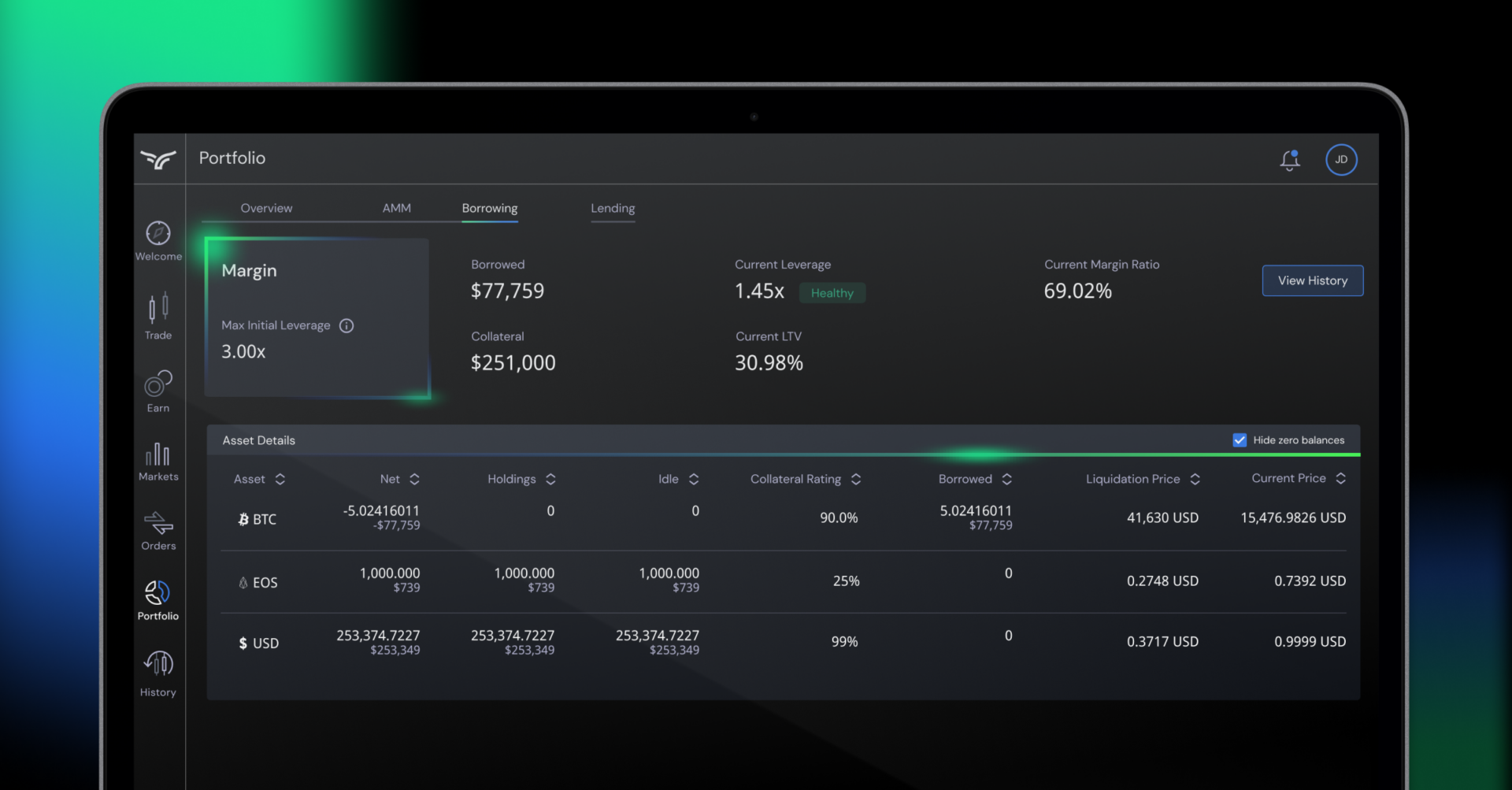 Bullish on margin
One of the most requested features by our customers was the introduction of a capital-efficient and on-demand borrowing and lending product. With the introduction of margin trading on Bullish, we've ticked all the boxes and then some.
Traders can borrow BTC, ETH, and USDC on-demand, with plans to add more supported assets soon. Through cross-asset collateralization, traders can maximize capital efficiency by utilizing multiple assets within their account, including assets locked in resting limit orders – an innovative feature that sets Bullish apart from other trading platforms. Additionally, traders can take advantage of auto-repay to minimize their funding costs. Bullish margin trading offers a straightforward solution to seamlessly borrow funds and effectively capture market opportunities with leveraged trading power.
Lenders can generate interest by loaning their assets to other customers in a secure, regulated environment, opening up an additional revenue stream for putting assets to work.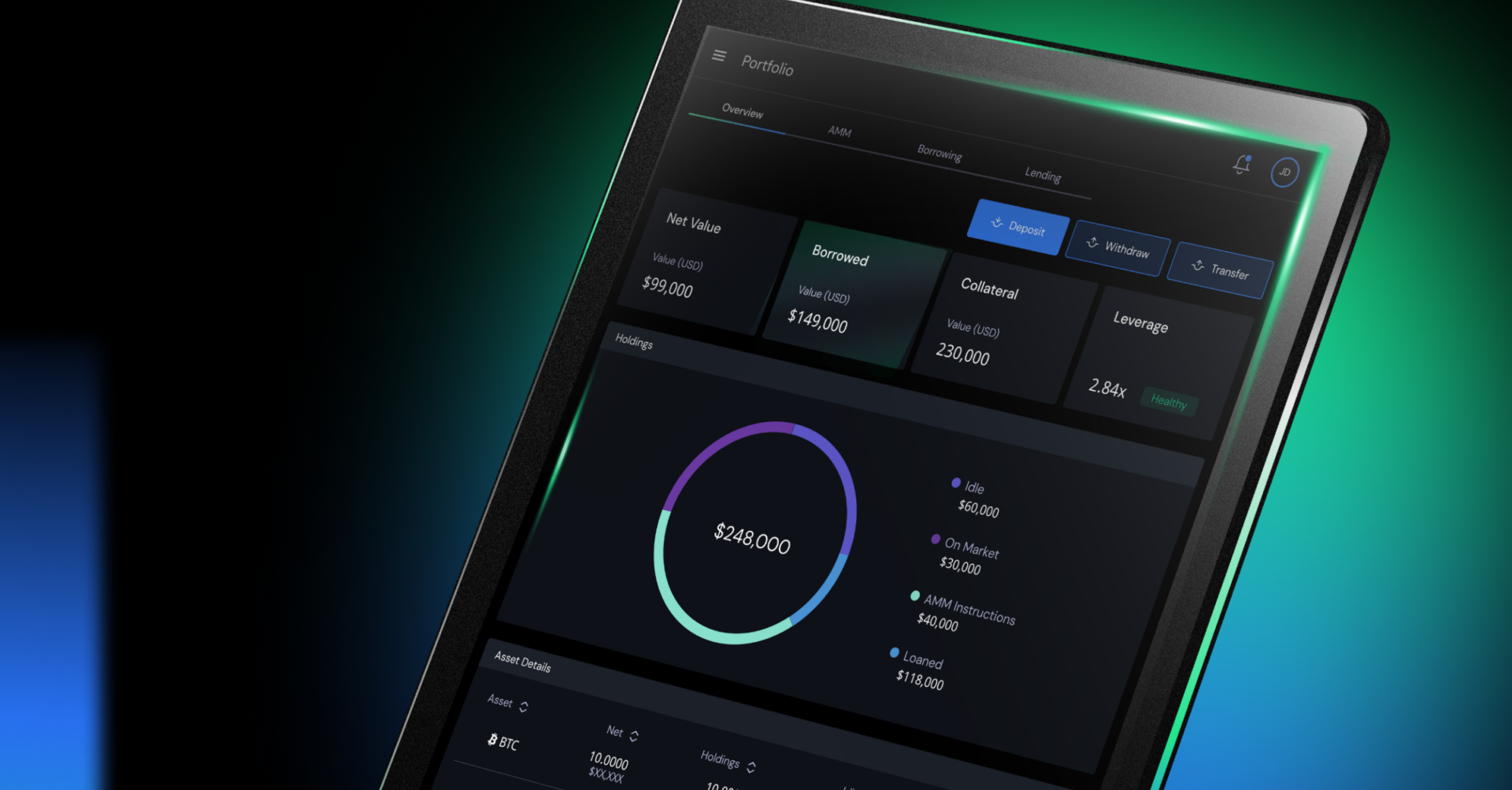 Powered by a state-of-the-art risk engine
Our margin product is underpinned by an innovative risk engine that balances individual limits with broader market movements. In situations where leverage increases past a predetermined safety threshold, the exchange will intelligently prevent additional risk from being taken on by seamlessly unwinding positions through partial liquidation. This safeguard will be automatically lifted when the safety threshold is reached again and prevents feedback loops that can cause unwanted price deviations and unnecessary full liquidations. Furthermore, as all margin positions are tied to a customer's specific sub-account, traders can effectively mitigate risk by segregating their funds across multiple, diverse trading strategies.
The power of Bullish
Incorporating margin trading into our product offering is just the beginning, as we lay the groundwork for upcoming developments that further enhance our customers' trading experience and redefine the digital asset trading landscape. We're building boldly with that exciting future in mind and invite you to be Bullish with us.
Additional information about margin trading and AMM Instructions can be found in the Bullish Help Center and legal notices:
For media enquiries about Bullish's product strategy, please contact us at [email protected]. To request more information about the exchange, or to open an account, please get in touch.